:::
<!#--所有資料+cate tab --> <!#--detail-->
How can the electronics manufacturing industry continue its strong run and plan ahead in the post-pandemic era
Online Date: 2020/07/02
Modify Date: 2020/10/27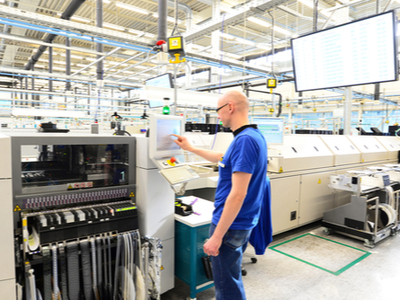 Taiwan's electronics industry transitioned from OEM-based in the 1980s to ODM-oriented by gradually accumulating and strengthening its R&D and design capabilities. However, the development of Electronic Manufacturing Services (EMC) in Taiwan suffered a huge blow as industries began to move out of the country due to increasing production costs, thus turning mainland China into "the world's factory". This has also become an important turning point for Taiwan. Fortunately, Taiwan's OEM has regained its authority through efforts to enhance design capabilities, develop the semiconductor industry, and deepen advanced process technologies for chip manufacturing, coupled with the formation of a complete industry chain and ecosystem.
Sending shockwaves through the global economy, the unprecedented COVID-19 pandemic in 2020 has also sounded the alarm for various industries, providing the global industry with a stern reminder to rethink the composition and layout of the manufacturing chain and forcing companies to accelerate digital transformation. As Taiwan becomes well-known internationally for its outstanding epidemic prevention performance, it is also worth discussing how to enable international companies to demonstrate the soft and hard power of Taiwan's manufacturing industry, attract foreign investments to set up factories in Taiwan, and welcome overseas Taiwanese businesses to return and invest in Taiwan. This advantage can enable Taiwan's electronics manufacturing industry to once again grace the international stage in the post-pandemic era.
Re-planning and digital transformation become even more important as abrupt changes occur to the division of labor
Taiwan Electrical and Electronic Manufacturers' Association (TEEMA) Chair Mr. Richard Tsu-Chin Lee, formerly chair of electronics giant Inventec Corporation, recently expressed his views on the changes facing the electronics manufacturing industry in the post-pandemic era, and how to cope with them at the MIC Forum Spring. Mr. Lee, who has extensive practical experience in the electronics manufacturing industry, noted that the division of labor in the global production of information communications technologies has changed rapidly in recent years, especially after the US-China trade war, where "Made in America" and "Distributed Planning" have become two important options for resolving this long-term conflict.
According to statistics provided by TEEMA, the percentage of electronic products imported by the US from China declined from 67 percent to around 50 percent in 2019. Many electronics manufacturers have begun to move out of China or spread to 14 low-cost countries (LCCs), such as Indonesia, Malaysia, Thailand, Cambodia, Laos, Myanmar, Vietnam, and India.
Factors such as space utilization, human resources management and raw material transportation need to be taken into account in local production in order to assess their return on investment. In light of the current international situation, Mr. Lee said that in order to reduce investment risks, "redundancy would be better re-emphasized" for manufacturing. In other words, reserving more stock is more important than setting up factories to speed up production as it can solve problems faster and also saves time and costs. In response to developments in the COVID-19 pandemic, he also reminded companies to actively engage in digital transformation and alter their mindset, as well as focus on human-technology and work-life integration. TEEMA will also set up a digital transformation team to assist corporate members in transformation, including digital cloud and digital ubiquity, to achieve the substantial goal of digital transformation.
Technological innovation promotes transformation, while disruptive innovation creates a new economy
Foxconn chair Mr. Young Liu, who was also invited to the forum, stressed that AI and 5G have become key drivers in promoting digital transformation, while Foxconn has developed a five-to-ten year transformation plan that will focus on integrating the transformation and application of three core technologies (i.e. AI, semiconductor and 5G) in three future industries (i.e. electric vehicles, digital health and robots) to create a new generation of economic miracles.
Mr. Peter Chen, chair of Qisda Corporation, also said at MIC Forum that AI offers more convenient and faster solutions through cloud applications, accelerating enterprise transformation and innovation and creating huge business opportunities. Meanwhile, 5G is also very important for the country's future infrastructure. By leveraging its high transmission speed, high frequency bandwidth, high density and low latency, 5G will be beneficial for the development of value-added innovative applications such as the Internet of Vehicles, smart healthcare and even smart cities. It is similar to the construction of Taiwan's high-speed rail, which not only changed our transportation habits and lifestyles, but also accelerated balanced regional development and built new economic patterns. Mr. Chen also urged companies associated with the electronics manufacturing industry to apply the concept of large alliances to combine small- and medium-sized enterprises, diversify investment risks and build platforms in the post-pandemic era, in order to achieve maximum performance during transformation, and face greater challenges together.